B is for Brisbane.
I enjoy watching Harrow on the ABC. Harrow, played by Ioan Gruffudd, is a forensic medical examiner at the QIFM the Queensland Institute of Forensic Medicine. Harrow is cool, incredibly smart, he flies close to the edge, has enormous empathy for his dead clients and their living relatives and is always in some sort of personal crisis.
But the thing I love about Harrow most is that it is shot in the beautiful river city of Brisbane. Harrow lives on a boat on the Brisbane River, moored just below the city Botanic Gardens. The episodes always include stunning day and night time shots of the cityscape, the wonderful Story Bridge, stately Queenslanders, parks, familiar buildings; to put it simply, beautiful Brisbane!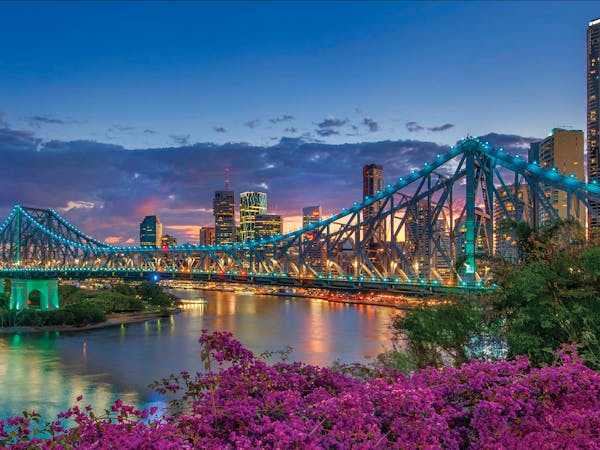 Brisbane is a city with a population of about 2.5 million. It enjoys a sub tropical climate and manages about 280 sunny days each year. It is the third largest city in Australia by population and geographically the largest of any Australian capital city. By area Brisbane is the third largest in the world and is known for its living space. The area of Brisbane is a legacy from the old days when house blocks were quarter acre and large back yards were the accepted normal. This is changing as more people find out just how glorious Brisbane is and high density urban development is increasing.
While none of us live in Brisbane now, my adult children would consider Brisbane their childhood home. One of my very dear Brisbane memories is the weekend my youngest daughter and I spent being tourists in Brissie just before she flew out to live overseas. Brisbane has come of age and is a world class city. As cities go it has a laid back vibe, a reputation of being relatively safe and a great mix of that quintessential Queensland spirit.
Thank you to the producers of Harrow for showcasing our Beautiful Brisbane while telling a great story.
♫ Johnny Chester ♥ Glory, Glory ♫ – YouTube To Conclude, here is the link to Johnny Chester's 1971 hit. Glory, Glory, I'll be back to see the Story Bridge. And to my beautiful scattered family, I surely do hope that we will all get back to see the Story Bridge.
Blessings.