C is for Canberra– Australia's National Capital.
Canberra, Australia's purpose built National Capital was founded and named in 1913. After the federation of Australia on January 1st 1901 the cities of Melbourne, in Victoria and Sydney, in New South Wales both considered themselves suitable to be the national capital. The dispute over which city should be the capital was resolved by the decision to build a brand new city on Commonwealth land somewhere in New South Wales but over 100 miles away from Sydney.
In 1911, the then Australian Prime Minister launched an international competition to find a design for the new city. Out of 137 entries, a newly wed American architect from Chicago and his wife, Walter Burley and Marion Mahony Griffin were the winners. The couple had never been to Australia but based their design on the geographical and climatical information available to them. The man made lake around which Canberra is situated bears their name.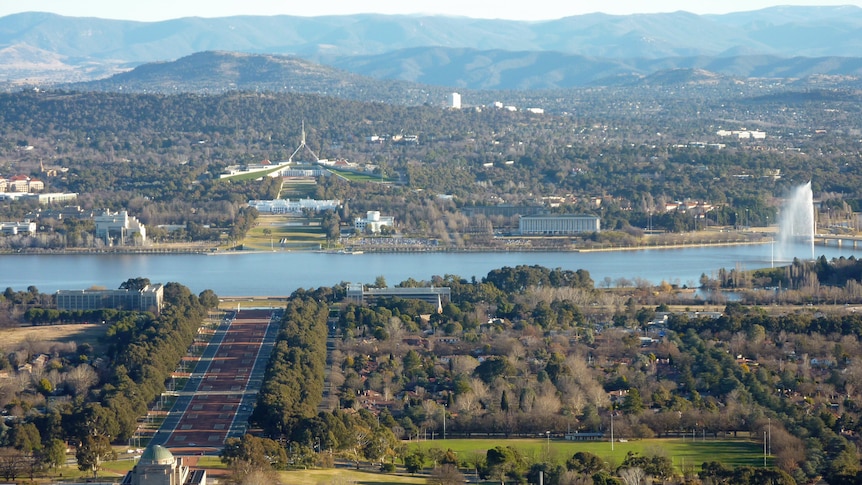 Only in Australia! Out in the sticks, in an area populated by sheep and cattle rises our national capital built on a area of reclaimed Commonwealth land; The Australian Capital Territory.
The new name, Canberra, is said to come from the Aboriginal word Kambera or Canberry, which means "meeting place". I do not know if this claim is exactly true but if it is, it is very appropriate since Canberra is the meeting place of government.
Aside from our Australian Parliament House, Canberra is home to The Australian War Memorial, the National Science Museum, the Museum of Australian Democracy, The National Library, The Australian Mint, The Australian Army College of Duntroon, The Australian Defence Academy, The Government House at Yarralumla, The Australian Police Memorial and the International Ambassadorial Residences.
I have visited Canberra several times but for hubby it has been home on two occasions; firstly in the military and then as a security guard at many of the locations listed above.
Canberra has no humidity but can experience a very dry heat in the middle of summer; the winters are cold and the city is located only a few hours drive from the Kosciusko National Park, The Snowy Mountains and Australia's Alpine regions.
Canberra has four distinct seasons and in Spring hosts Floriade which rivals our beautiful Toowoomba Carnival of Flowers which has been our Spring event for over 70 years.
Floriade is back! Australia's biggest celebration of Spring, Floriade, will celebrate its 34th year with a spectacular display of over 1,000,000 blooms in Commonwealth Park from 11 September – 10 October 2021.
Floriadehttps://floriadeaustralia.com
Again only in Australia will one find kangaroos feeding on the lawns of Government House or the lawns of our Houses of Parliament. Hubby tells the story of driving home from a security shift in the early hours of a foggy morning and hearing an unusual sound ahead, which was all a bit curious until out of the fog he was able to discern a couple of kangaroos hoping down the suburban street.
Canberra is a wonderful place to visit and play tourist. The city, its lake and surrounds is a popular location for hot air balloon rides and Canberra hosts the hot air balloon festival annually. Quite apt really as a lot of hot air comes out of Canberra!
May God bless our leaders as we pray for their wisdom.