#J is for Jerilderie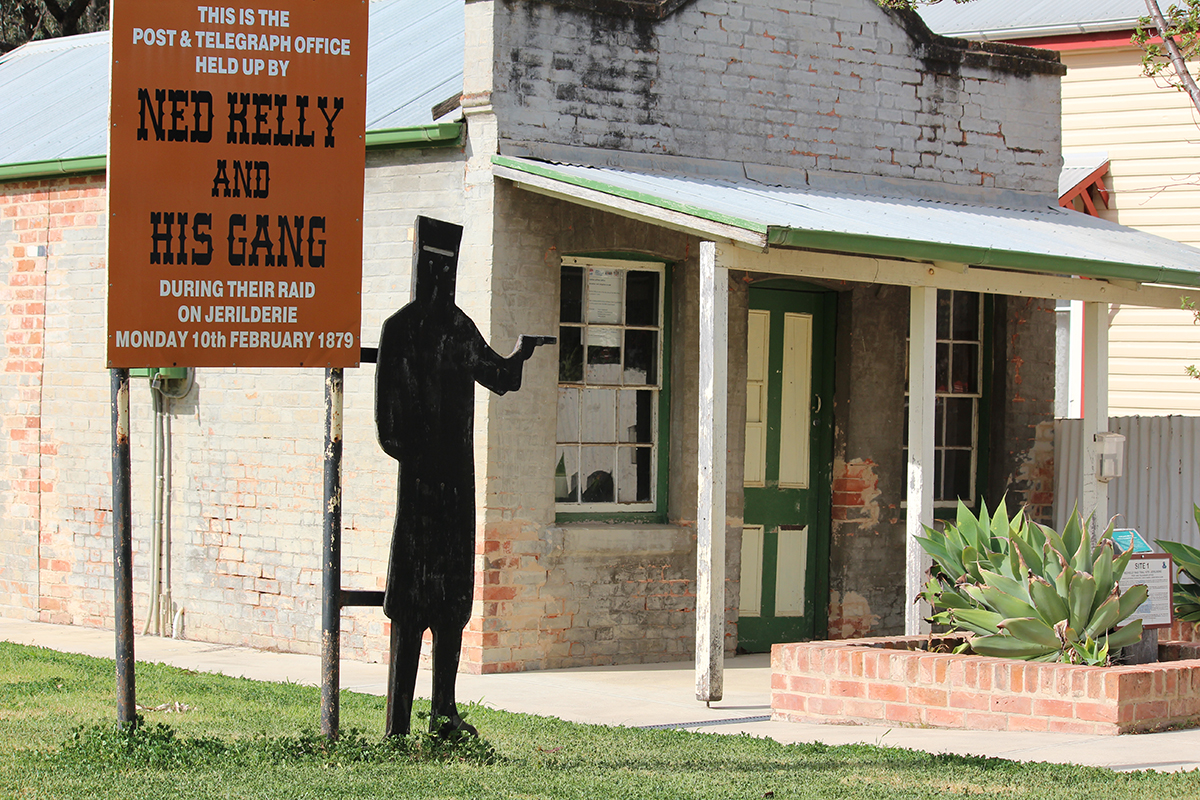 Jerilderie is located on the Newell Highway in the southern Riverina region of New South Wales. The Riverina is a prosperous agricultural area due to the irrigation schemes of the Murray and Murrumbidgee Rivers. The area is known for citrus, stone fruit, wine grapes and vegetables as well as grain crops of wheat, oats and rice along with dairying and some sheep and cattle.
But Jerilderie makes the cut for this blog because it is the only place in New South Wales to be visited by Ned Kelly and the Kelly Gang and it is the location of the Jerilderie Letter.
In 1879 the Jerilderie Letter was dictated by Ned Kelly and written by Joe Byrne, a member of the Kelly Gang. It is 56 pages of 8000 words giving Kelly's side of his story and claims that he is "forced" into becoming an outlaw because of corrupt police and unfair treatment of Irish Catholics.Transcription | National Museum of Australia (nma.gov.au) The letter can be found in the National Museum of Australia and the link above should open to show a transcript of its contents.
Ned Kelly has made his way into Australian Folklore. Some consider Kelly a victim of circumstance and poverty, some consider him a hero of the underdog, while others consider him a villain. Regardless of your point of view, Kelly was a bush ranger who held up and robbed stage coaches and banks, he was a deft hand at cattle and horse theft and he did shoot 3 police officers at Stringybark Creek. Still, for the right or the wrong reasons, he lives on in classrooms, films, novels and history long, long beyond his 25 years on earth.
I have visited the Old Melbourne Gaol and stood in Ned's prison cell. I also visited the cell of his mother, who was imprisoned at the time and working in the prison laundry while her son was being hanged on 11th November 1880. When the tour guide took us the the spot of the hanging gallows I had to leave; I was feeling quite faint, as I sometimes do, when confronted with just how horrible we humans can be to one another.
On a brighter note, when my son was still in his teens he spent 6 months on a Green Corps Environmental project in the small town of Braidwood, midway between Canberra and Bateman's Bay in New South Wales. I went to visit and found that he and his mates were living in an old mill house which had been used as the gaol in the 1969 Ned Kelly film in which Mick Jagger (yes, the one of Rolling Stones fame) was the character of Ned Kelly. I recall doing lots of cleaning, cooking and walking on those glorious blue skied, sunshiney, yet bracingly cold days.
So, J is for Jerilderie; another of those small Aussie towns (population 1,029 in the 2016 census) but with a big story to tell.