# U is for Uluru.
Uluru is a globally recognised landmark of Australia. It sits pretty much smack bang in the middle of the continent and seems to arise out of nowhere. For the aboriginal people of the area it is a sacred site of spiritual significance which is woven into their Dreamtime story. Both Uluru and Kata Tjuta, otherwise known as The Olgas are situated in the Uluru /Kata Tjuta National Park which is listed as a UNESCO World Heritage Site.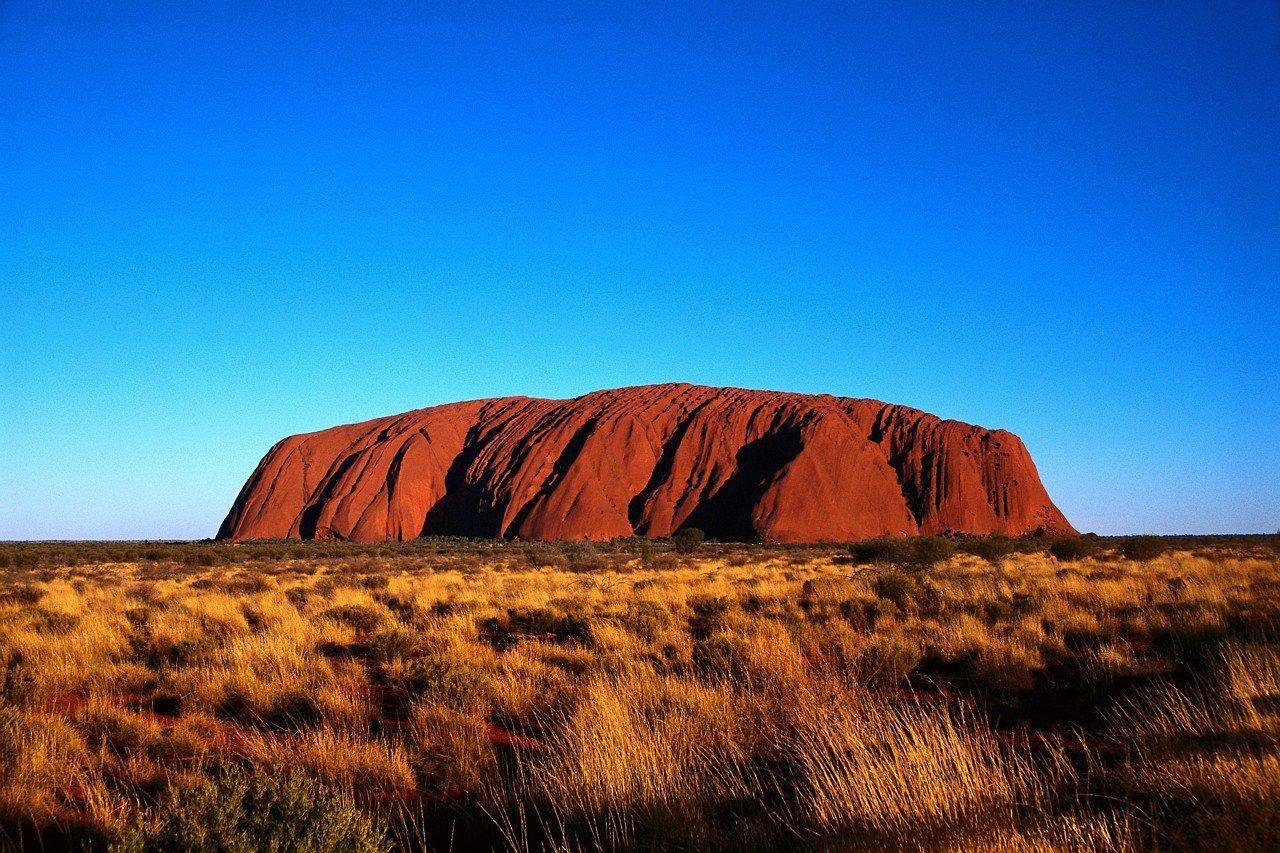 The first recorded white man to see Uluru was the explorer William Gosse, who in 1873 named the rock Ayers Rock after the then Chief Secretary of South Australia, Sir Henry Ayers. In 1993 the name was officially changed to the dual name of Ayers Rock / Uluru and today is known simply as Uluru or The Rock. In October 1985 The Rock was formally handed back to the traditional owners and some 34 years later, in October 2019 their wish that people not climb it was enforced by law. The Rock is now permanently closed to climbers but one can walk around its base or take a flight over the area. Because of the spiritual significance to the Anangu people, to have tourists climbing all over Uluru would be akin to tourists cavorting all over the altar, of say, St Peter's in Rome.
People often think that if you go to Alice Springs you will see The Rock but it is a 5 hour drive from Alice Springs to Uluru on well sealed roads. One can also fly directly to Yulara, which has its own airport, called Ayers Rock/Connellan Airport, from most Australian capital cities or take the 45 min flight from Alice Springs to Yulara. One can also take the Uluru adventure as part of the 3 day and 2 night trip on The Ghan train which travels right through the centre of Australia from Adelaide to Darwin or vice versa.
The world heard about The Rock in 1980 when The Dingo got my Baby story made global headlines. Azaria Chamberlain was nine weeks old when she went missing during a family camping trip to Uluru. The mum believed her infant daughter had been taken from their tent by a dingo but this story did not fit with Northern Territory authorities who wanted to protect the tourist industry of the Red Centre. What followed absolutely destroyed a loving, law abiding, God fearing family. Books have been written, films and television interviews and documentaries have been made; the devastation and outfall of the whole sad story is heartbreaking. The baby's body has never been recovered.
Ayres Rock, Uluru, The Rock; even if for you there is no ancient and spiritual connection to be respected, it is by all accounts a marvellous and mysterious Australian icon which evokes a sense of reverence and in the shadow of this mighty monolith we are all reminded that we are but a speck in time and history.